The 11th of October is the International Day of the Girl: a day in which we are compelled to take a step back and appraise both the high strides we have made as a global society in achieving gender equality and the long road that lies ahead. As global leaders small and big across our blue planet will take their role in addressing the future of girls worldwide, this week at Sancho's we are making the case for why electing Donald Trump would be a step back for Ethical Fashion, and what the consequences of this will be for girls in countries which rely on textiles industry.
                                                                                                                                            Donald Trump is Sexist
Women worldwide have watched uncomfortably as Donald Trump has used the US election process to underhand and insult female reporters, colleagues and rivals.However, his degrading sleuth of words and actions, begun long before his campaign to run for office. This is a reality to which the world became savvy this week with the release of a stomach turning video in which he speaks to an Access Hollywood reporter about his techniques to force himself onto women against their will. During the presidential debate this Sunday night his words were merely described as 'locker room talk', normalising sexual violence and deeming it acceptable.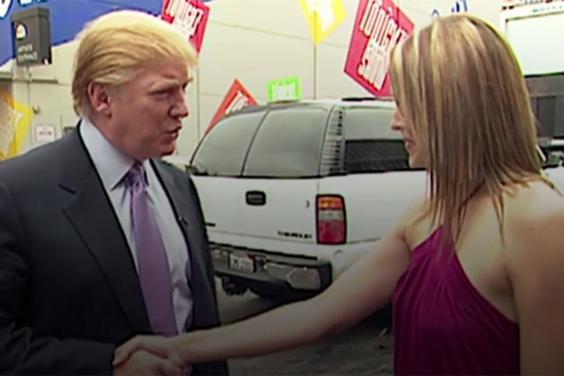 (Washington Post/ Access Hollywood)
Women and girls make up around 80% of the 75 million people working in the textile industry. Women garments workers are paid less than men, work longer hours and receive little or no social benefits. For us to combat the discrimination that the women who make our clothes face, we need leaders who are enlightened enough to have equal respect to their own electorate.
Donald Trump has an unjustified protectionist world view
The basis of Trump's campaign, similar to most far right wing campaigns in Europe in the last decade is that the average person should fear immigrants on the grounds that they are loosing jobs to them. Trump argues that America is failing to provide good work for its citizens by increasing the competition for work from neighbouring Mexico.
This is a fundamentally flawed position, as immigration has been shown to have an irrelevant effect on job availability. Immigrants take jobs that they are either more competitive in, or jobs that others would not do. To solve the problem that some workers face, two things would need to happen: 1) citizens should have access to training which will make them competitive and 2) employers should be made to stick with employment law and not target vulnerable immigrants with low payed work. 
The alternative that Donald Trump is advocating for will be to have less immigrants, and higher wages, a strategy that will lead to higher prices and  that will potentially cause an increase in real price (the actual cost of goods relative to wages).
Free and Fair trade is the crucial ingredient to a fair and equitable world. Instead of scapegoating vulnerable members of the community, our leaders need to assertively demand that companies take no advantage of anyone and pair fair wages both domestically and internationally.  
Donald Trump chases rock bottom prices when ordering his Merchandise
"Fast fashion" is a term that refers to the clothing industry  seeking increasingly lower prices, cutting costs and frequently wages to provide the lowest price point possible. Although most competition is healthy and a positive thing for economies, the race to the bottom is negative for all involved. The people who carry the most weight for the race to the bottom are those working in the textile industry in developing countries, some of which have paid for it with their life.
Trump or Trump associates have produced garments during his election campaign without being able to identify their sourcing, relying on areas likely to rely on low wage economies. Just like his actions toward women reveal that he is not capable of being a true advocate of women's needs, his actions toward clothing also reveal that he will not sympathise with the ethical fashion movement.
Leave a comment